BECOME A PART OF US, OUR ILLUSTRIOUS (YET GHOSTLY) FOUNDERS
& THE IMMORTAL RLS! 
Many leading figures of American Arts & Letters became founding members of the Stevenson Society. Among the early members were the editor/publisher Sam McClure of McClure's Magazine, painter Will Low, an intimate friend of Stevenson in their days together at Barbizon, the sculptor Gutzon Borglum, New York Sun writer Robert H. Davis and author Stephen Chalmers. Dr. Edward Livingston Trudeau, the renowned TB researcher and physician who treated Stevenson during the author's stay in Saranac Lake was also a founding member, as were other important local figures like Colonel Waiter Scott.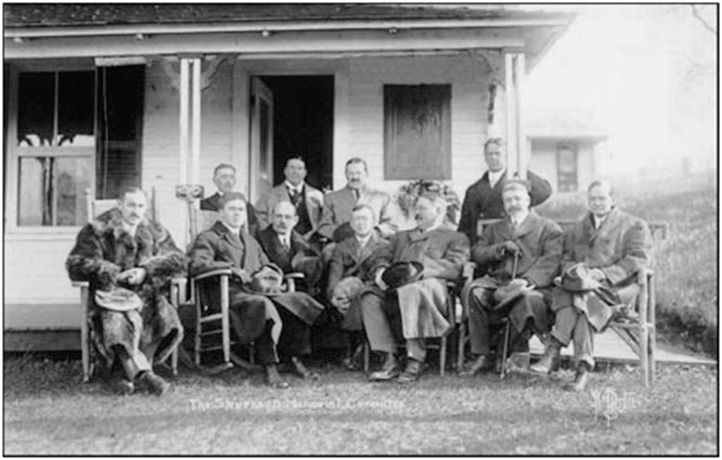 Thank you kindly for your support, we'll work to keep the cottage a reality for the next hundred years at least; membership entitles you to a free tour of the museum by our extremely knowledgable curator and if you provide an email address, updates on any upcoming events, additions to our collection, etc. Donations are always needed as we strive to keep the cottage cared for as the shrine its founder's intended it to be, to keep alive the spirit of the brave, brilliant, passionate and rebellious beloved author,  Robert Louis Stevenson.
R. L.eonard, website design & management
Mr. Mike Delahant, The 3rd Generation Resident Curator
R.L.S. Memorial Cottage Mailing List
"The world is so full of a number of things,
I'm sure we should all be as happy as kings." -RLS
We welcome, as did R.L.S. mail by post! Open our Membership page listing ALL the classic levels of giving; the basic yearly is $25. Your donation is tax-deductible and if you wish to receive physical mail just let us know in comments, we'll send you a receipt to the address you indicate. Thank you for truly becoming a part of our life support; for in our magnificently harsh Adirondack clime 'winter is (always) coming'; thus, your donation warms much more than our hearts, it is truly the life blood of our being and ensures the ultimate survival of our cottage shrine to RLS.