Historic Stevenson Society
The Stevenson Society was first called the Stevenson Memorial Committee and fulfilled its original purpose on October 30, 1915, when,at the Saranac Lake cottage occupied in 1887-1888 by Robert Louis Stevenson, it unveiled a bronze bas-relief memorial tablet designed by Gutzon Borglum. On that occasion the committee was resolved into a permanent organization, renamed as the Stevenson Society, its "membership open to anyone interested in the author and his works and who desire to spread his brave philosophy of living." THE STEVENSON MEMORIAL COMMSTTEE-Under whose direction plans were made for the unveiling of the tablet. Front row from left: Dr. Hugh M. Kinghorn, Stephen Chalmers, Gutzon Borglum, Dr. Alien K. Kraus, C.M. Palmer, M.M. Feustmann, C.S. Thurston. Back row from left: Ernest H. Baldwin, Robert H. Davis, Dr. Lawrason Brown ....
Illustrious Founders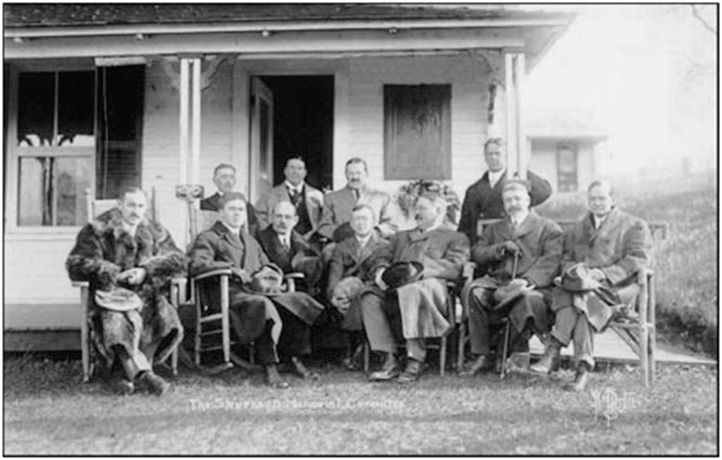 Many leading figures of American Arts & Letters became founding members of the Stevenson Society. Among the early members were the editor/publisher Sam McClure of McClure's Magazine, painter Will H. Low, an intimate friend of Stevenson in their days together at Barbizon, the sculptor Gutzon Borglum, New York Sun writer Robert H. Davis and author Stephen Chalmers. Dr. Edward Livingston Trudeau, the renowned TB researcher and physician who treated Stevenson during the author's stay in Saranac Lake was also a founding member, as were other important local figures like Colonel Walter Scott.
R.L.S. Memorial Cottage Mailing List
"The world is so full of a number of things,
I'm sure we should all be as happy as kings." -RLS
We welcome, as did R.L.S. mail by post! Open our Membership page listing ALL the classic levels of giving; the basic yearly is $25. Your donation is tax-deductible and if you wish to receive physical mail just let us know in comments, we'll send you a receipt to the address you indicate. Thank you for truly becoming a part of our life support; for in our magnificently harsh Adirondack clime 'winter is (always) coming'; thus, your donation warms much more than our hearts, it is truly the life blood of our being and ensures the ultimate survival of our cottage shrine to RLS.